Is it Safe to Go Camping with your Baby?
Going on a camping trip with your baby is something new to our ears. Is it practical, feasible or more importantly, safe? There have been many discussions and debates over the internet whether it is appropriate to bring your child when you go camping. However, it is the parent's judgement call whether they feel it is safe to travel with their baby.
Couples who are already experienced campers may find it easier to deal with since they are already familiar with the basic skills in camping. All they need is to incorporate their parenting skills. On the other hand, new parents with no camping experience may find it a challenge but it can still be done.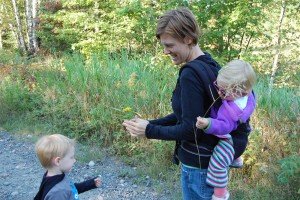 There are many factors to consider first such as your baby's age, health, condition among many others. You also need to think about the location, campsite, proximity, and safety. The bottom line is, camping with your little one is possible. You just have to follow certain guidelines and safety procedures to ensure that your camping experience goes smoothly.
Here are some steps on how to keep your baby safe and comfortable during your camping trip.
Pick a baby-friendly location
Get in touch with the campsite and check if they offer a baby-friendly environment. Make sure the camping ground is accessible by vehicle and that you can park it nearby. Take note that other sites require you to trek for a few minutes before you reach the base camp. In case of emergency, you can easily access your vehicle.
Make sure that there is a bathroom near your tent. In case your baby needs to be changed or washed, you should be able to locate it easily.
Pick a campsite that is located not too far away from your house and the hospital. In case of a medical emergency, you can quickly rush to the hospital. At the same time, if anything happens, you can easily go back to your house. This is convenient especially if you realize you left your baby's diapers at home.
Create a separate checklist for your camping gear and your baby supplies
Pack all your camping gear and equipment in a separate bag. Make sure you tick off all the items on your checklist. Pack a first aid kit in case of emergency.
Bring a baby bag to carry all your little one's supplies. Double check your list before you leave your house. Make sure all his basic needs and supplies are included in your bag. These include your baby's milk, feeding bottles, baby food, diapers, toiletries, clothes, toys, carrier, and other necessities.
Check the weather and temperature on the dates of your trip.
Bring a set of clothes that will keep your baby warm and cool.
Don't forget to bring a blanket and pillow to keep your baby cozy and warm. It tends to get cold during nighttime. Pack a pair of booties, mittens, and beanie to make sure your tot is covered up.
On the contrary, during daytime, pick a set of clothes that are breathable especially during hot and humid temperature.
Keep your baby comfortable at all times
One of the most important things your can do is to make sure that your baby is feeling comfy. The worst thing that can happen is for your baby to incessantly cry day and night. It's embarrassing to disturb your fellow campers especially your neighboring tent. Keep your baby happy and relaxed to avoid tantrums.
Have fun
Your ultimate goal is to have a fun weekend bonding with your family. Don't obsess too much over petty things and try to relax as much as you can. Camping with your baby is a memorable and priceless experience that you will cherish for a long time.